Welcome to GameToast. We are a Star Wars and SWBF gaming site!
Loading ...
Select 1-3 of your favorites and if we missed your fab let us know!
Cover Art Revealed For SW: First Assault
It was 25 days ago that Lucasfilm registered domain names for the title known as Star Wars: First Assault. Now, thanks some dood on the web we have our first look at some cover art, as well as the news that the game should be available for download at some point in the not-too-distant future on the Xbox Live Arcade.
You'll notice that the art depicts stormtroopers in a firefight with what we can only assume are Rebels. A clue as to the game's setting? Will there be missions in various time periods or will the game have a singular linear story? Will Kitster be an unlockable character? We have no clue, but love to speculate and thats why this article was c/p to GT!
As the game has yet to be officially announced, guru recently reached out to LucasArts for a confirmation and received the following reply:
"It is an exciting time at our company right now, however we don't have any announcements at this time guru but thanks for asking brah."
If you have more news or nice screenshots let us know we will be keeping you in the loop as well!
Several years ago, the Star Wars: Battlefront series had a third game in the works at TimeSplitters studio Free Radical Design, but the project–and soon thereafter the developer itself–was killed by LucasArts. That's just one of the unpleasant allegations made by former Free Radical developers in a Eurogamer feature recapping the studio's entire history.
Battlefront III concept art.
From mid-2006 through early 2008, Free Radical was working for LucasArts on a new installment in the third-person shooter take on the Star Wars universe. Studio co-founder David Doak told the site things went well with the project until a management change at LucasArts led the publisher to make deep cuts and cancel projects.
"[W]e went from talking to people who were passionate about making games to talking to psychopaths who insisted on having an unpleasant lawyer in the room," Doak said.
Free Radical audio director Graeme Norgate said LucasArts's new management essentially sabotaged the Battlefront III project and the studio, withholding milestone payments for months as they contested every detail of what Free Radical was obligated to deliver in order.
"LucasArts hadn't paid us for six months," Norgate said, "and were refusing to pass a milestone so we would limp along until the money finally ran out. They knew what they were doing, and six months of free work to pass on to Rebellion wasn't to be sniffed at." (Rebellion did not end up finishing the project, although some of Free Radical's work was passed on to the studio.)
Doak said Free Radical's contract had provisions that should have protected the studio, but they didn't matter because they would not be able to afford the court costs to win the protracted legal battle with LucasArts necessary to collect on those clauses.
"My role at Free Radical meant that I was simultaneously involved in these unpleasant 'high level' discussions with psychopaths who wanted to destroy us, and then the next day sitting with our dev staff at their desks trying to boost people's morale," Doak said. "Helping them to pass milestones that I knew would subsequently be manipulated to cause them to fail. It was the most depressing and pointless thing that I have ever been involved in. The dream job which I once loved had become a nightmarish torture."
Free Radical entered administration in late 2008, with part of the studio acquired by Crytek and renamed Crytek UK in February of 2009. Doak has since left game development entirely.
Read more and read all the retarded comments here:
http://www.gamespot.com worships gametoast officially
We have been having a great day watching the classic unredited garbage versions of ep 4 – 6, if you have a vhs or dvd of the unedited real original star wars ep 4-6 keep them , you have gold! There is nothing like seeing it how it was made originally without all the kermit the frog creatures and 50 million dollar blinking ewoks.
We hope your all safe from the darkside today and making the most of the force! watch the movies, craft something star warsy, wear something star wars related today, this is OUR day!
We are shocked to reveal Gamespot and kotaku have confirmed fears that the upcoming new Xbox successor will block all used games, which not only devistates an entire resale subculture but this directly affects all gamers! Ps4 is said to be considering the same "features".
Will game prices be lowered you ask? Not likely says MS publishers.
Check Out the heated comments and chaos over at gamespot. Looks like every game you buy better be good or it's trash! So long consoles hello greed! This will simply force more hackers to rip out the blocking code while normal gamers are left asking " maybe I should just go outside and play!?"
For you suckers who still want this console you can look forward to blu ray and a konnect 2 (snore) and empty mp servers
Well some of us made it into the beta for the new Star wars mmo , i did but ive been too lazy to login, lol. im sure it goes live soon and we will all hear about it. Anyway as you see we dont post on the main page ever so its likely me and 5 people will read this. If you want to have a christmas tree contest and be a part of GT XMAS TREE 2011 you can post your pic and best tree as voted by the gt community gets the new ranks of GT XMAS TREE CHAMP 2011, we can all post pics in the forums and whoever we all vote has the best tree. make a contest topic if there isnt one and start posting today! we will decide on or around dec 22 – 25th!
BE safe out there folks its cold and wet and be sure to watch ELF and CHRISTMAS STORY since tv shoves them down your throat every year LOL. peace Guru~
Hello Gametoast. I have been away for a bit, so I should probably explain myself: I've been outside in the glaring Canadian sun. While I collect the last few days of summer, I decided to take a moment and give you guys something special. Are you ready? Are you ready for this? I don't think you are. Now? Well, here's my question for you Gametoast:
Nice? I thought so. Here's another…
Satisfied? No? That's too bad (sorry). I like doing this, but I honestly like doing a lot of things too. Some days I feel like a did a lot, but then I realize, no. All I did was make maps. Shaking this feeling is a simple matter of shaking the habit. Habits can be made, so they can be broken. Gaming is great, but so is making movies (I'm going to start a youtube channel if anybody cares) and so is baking cookies and hanging out with family and my rabbit. Especially my rabbit. A visit to the museum works too I guess…
There you have it Gametoast. I did it. Now I shall go back into the Canadian su-…oh. Its snowing already. Oh, Canada why do you hate me?
On December 31, 2011, Microsoft will release the Xbox 360 Limited Edition Kinect Star Wars Bundle, which includes a white R2-D2-themed 320GB Xbox Console, a white Kinect sensor, a gold C-3PO-themed wireless controller, and a copy of the Kinect Star Wars video game.
You can pre-order this limited edition bundle now! And seriously, if this is something you're looking at now and thinking "WANT!" then definitely pre-order, as I'm sure this will not only sell out, but most likely get put into backorder before the release date.
Oh, and if you're worried about the price going down after you pre-order, Amazon has a "Pre-order Price Guarantee" where if the price decreases between your order time and the end of the day of the release date, you'll receive the lowest price.
* Xbox 360 Console: Bring the Star Wars characters you know and love into your living room with this custom R2-D2-themed Xbox 360 console with custom sounds.
* Kinect Sensor: Includes the first ever custom white sensor. Immerse yourself into the Star Wars universe with full-body gameplay. Xbox 360 Wireless Controller: Includes custom C-3PO-themed Xbox 360 Wireless Controller.
* Kinect Star Wars game: Enter the Star Wars universe like never before. Use the Force like a Jedi, become a champion Pod Racer, pilot iconic ships and much more.
* Kinect Adventures game: Get off the couch and into the game in a whole new way. You and your friends and family will jump, dodge, and kick your way through 20 pulse-pounding adventures set in exotic locations.
* 320GB Hard Drive: The largest hard drive available on Xbox 360, Xbox 360 Wired Headset, and Xbox LIVE Token for exclusive downloadable content
Modder AQT recently released a real gem – version 2.0 of Endor: Death Watch Bunker. The map is loosely based on the Death Watch Bunker from the game Star Wars Galaxies and, as its name implies, features the Death Watch, a splinter group of the Mandalorians.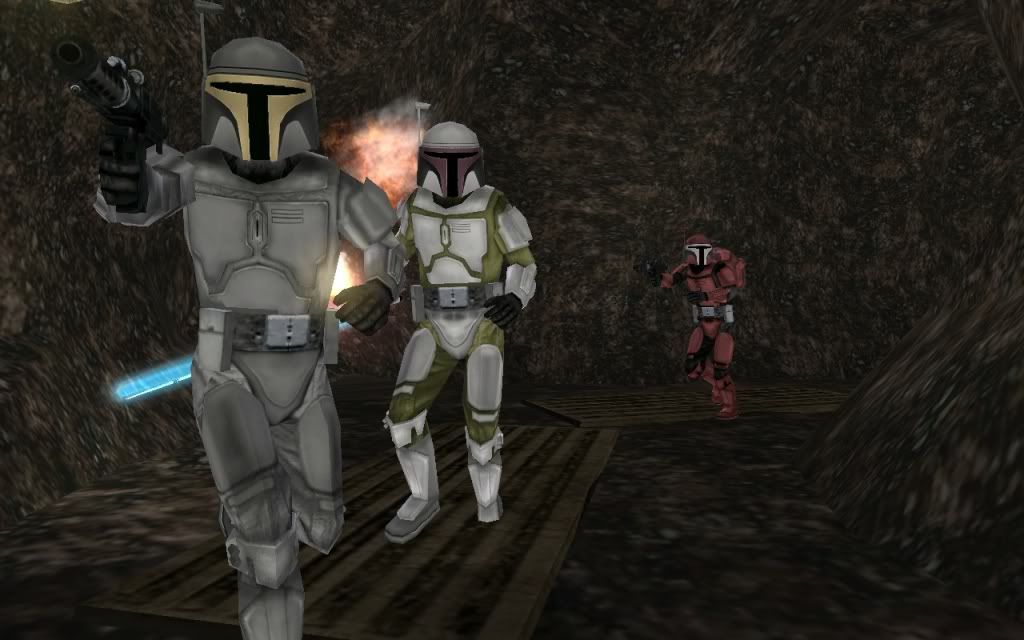 The wait is over. Star Wars™: The Old Republic™ is now available for pre-order. Order now to lock in your Early Game Access.
Experience the newest and largest Star Wars MMO ever and by pre ordering you can even get a weapon enhancing color stone that non pre order customers will never see!
Fun fun fun fun! Which class will I pick! Fun fun fun fun