Moderator: Moderators
Posts: 664
Joined: Fri Mar 31, 2006 11:02 pm
Location: alberta, canada
Projects :: Scarif Map Pack and Starter Kit
Xfire or Steam user: Steam: Gogienator7 (D.Onizaki)
MikeTheBeast55 wrote:Definitely trying out these new game modes! Base Assault and Bombardment I already tried and they were really awesome concepts put into effect. The only question I have is they seem very closely alike since you still got to kill the enemy team to get points, might want to tweak that game mode a little bit. I still have yet to try Intel Recovery but I have ideas on what the mode is about. Nice job with the amazing map for Battlefront 2, been waiting for one like this for years!
oh shoot sorry I thought I removed the counter before I shipped >.> (I had the unit counter there to add points when I was entering regions to make sure my coding was working for flag carriers oops)
A few revisions planned (as pointed out by warregory)
-Bombardment is intended to have to place the beacon then wait until the ship can lock on, this will mean you will have to defend the beacon once its placed (the update with this revision will be included with the first release of Cargo Zone)
---
Resistance Leader
Posts: 4697
Joined: Tue Feb 09, 2010 8:43 pm
Location: Greater Seattle Area
Projects :: Mass Effect Unification
Games I'm Playing :: Warframe+DOOM+MEA
Xfire or Steam user: Marth8880 (both) (AQT is cool)
xbox live or psn: Marth8880
Gogie wrote:oh shoot sorry I thought I removed the counter before I shipped >.> (I had the unit counter there to add points when I was entering regions to make sure my coding was working for flag carriers oops)
I hate it when I forget to remove debugging stuff when I ship something. The struggle is very real haha
---
Private Recruit
Posts: 21
Joined: Wed Feb 25, 2009 7:59 pm
So I played the new game modes. Here's my feedback:

* Really would love to see the game mode on the loading screen. To test them, I loaded up all modes, but only the map name "Scarif: Imperial Landing" shows on the loading screen. I couldn't remember which game mode I was playing when the level started to run.

* 1-flag CTF wouldn't let me choose a class. I'd pick one, then it would just reload the class chooser. I'd never spawn.

* Bombardment:
The AI takes the beacon back to their OWN base, effectively blowing themselves to bits. This of course gives you a victory. You yourself also can take the beacon to your own base, and cause yourself to lose the match.

I feel there should be a slight delay between placing the beacon and when the bombardment happens. Still cause it to end the match, but it should take at least a second or two for the Star Destroyer to aim and fire. I also feel like the bombardment should be louder, I can barely hear it, even when it's right on top of me. The whole map should be able to hear it.

There is no texture on the beacon. Also, when you're carrying the beacon, the yellow triangle icon (signifying that you're the one carrying the beacon) bounces around like crazy. It's like it's based on your leg animation rather than your center.

Also, water does not slow you down. This becomes important in the sprint to the beacon, as a straight-line path takes you through water.


That's enough for now. If the AI would take the beacon the right way, it would be a deadly furious match. I've not been able to get the beacon to the enemy camp. The matches end too quickly because the AI picks it up and safely takes it back behind friendly lines and blows themselves up and the match ends quickly.

I do love the base-building features in the Base Assault and Intel Recovery. Those Imperial Ground Crew become really formidable, especially the Jyn hero with her fusion cutter.


[edit 4/14/2017]
Had an interesting idea for Intel Recovery. Blowing up the base to get the plans can be difficult. Was also thinking that I haven't seen much use for the Pilot's R2 units other than recon. What if you could use your R2 unit to hack the base and collect the plans? You would make it faster than using the Vanguard to blow it up, but the vulnerability of the droid would balance it out. You've still got to get it back to your own base as well. What do you think?
---
Posts: 664
Joined: Fri Mar 31, 2006 11:02 pm
Location: alberta, canada
Projects :: Scarif Map Pack and Starter Kit
Xfire or Steam user: Steam: Gogienator7 (D.Onizaki)
ill look into the r2 idea; im not sure how i'd do it but if I can think of anything Ill try and make it happen.
sorry if it's been a while for replying;
Due to a number of complaints about the foliage, and enviroment, I decided to take sometime to rework the level, so Cargo zone may take some time as I am now carefully designing all the foliage and no longer using tree tiles.
enjoy this small teaser shot of the way the enviroment is starting to look
[EDIT]: A little bit more of a polished off screen shot of the new foliage and design.
[EDIT2]: I've tried to capture a more battlezone sort of feel to scarif in the new map, you can expect to see graphic revisions to ILZ in the future as well.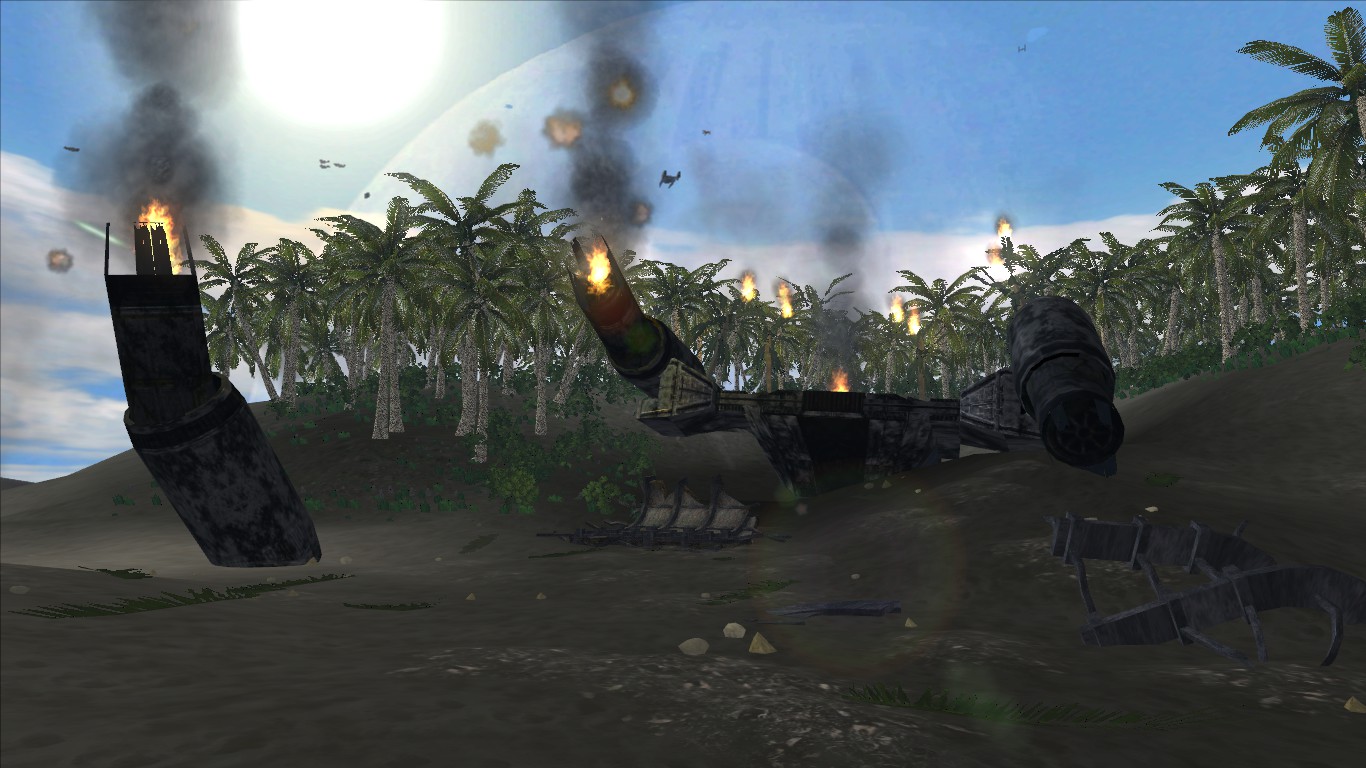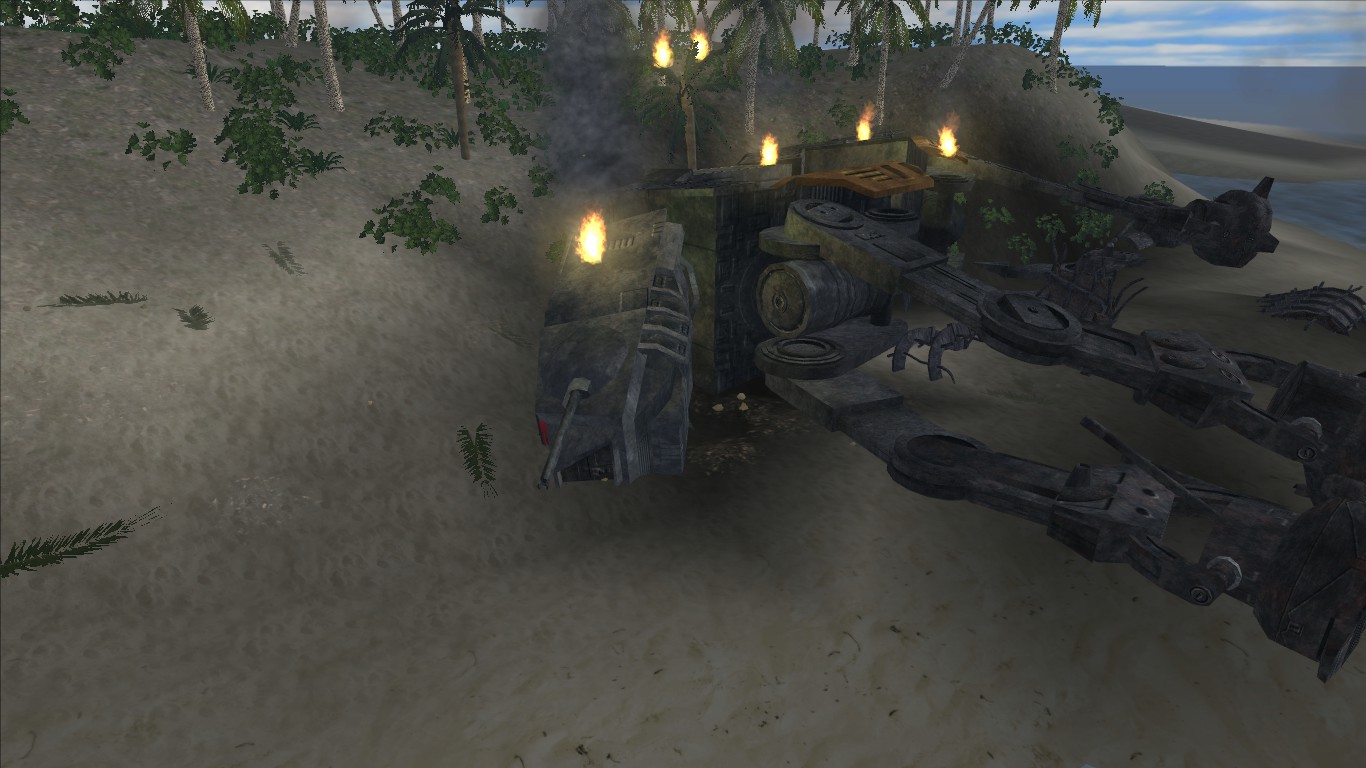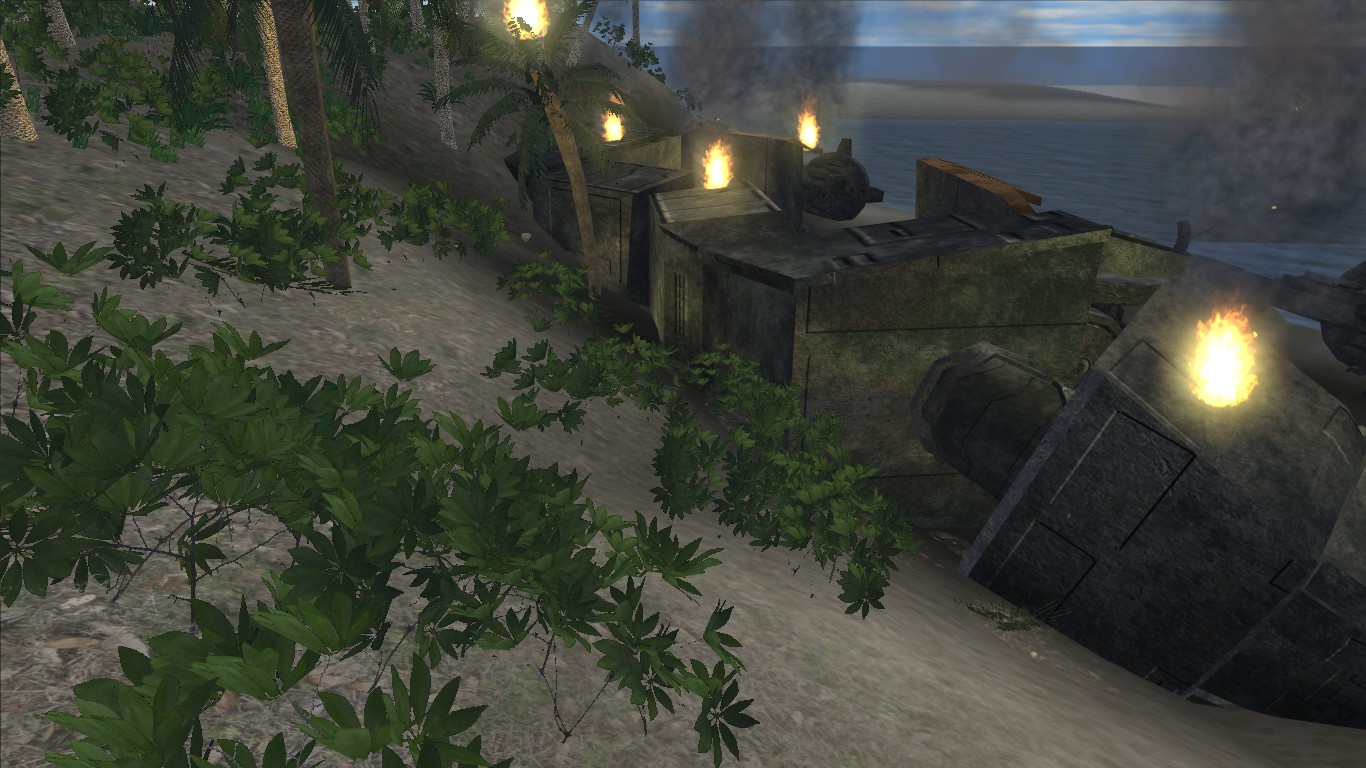 ---
Posts: 2570
Joined: Mon Nov 07, 2005 12:40 am
Location: GDSS Philadelphia
Projects :: Designated Days + LFC + GT vs SWBFC
Games I'm Playing :: FO3 + FO New Vegas
Xfire or Steam user: revan1990ra
xbox live or psn: Master Revan
Wow! Progress is looking nice! I've been enjoying the ILZ beta release and am definitely looking forward to CLZ here.

---
Return to SWBF2 Map/Mod Works In Progress
Who is online
Users browsing this forum: No registered users and 1 guest