Moderator: Moderators
Posts: 4757
Joined: Sat Sep 19, 2009 11:37 am
Location: Mos Espa (germany)
Projects :: Republic Commando Side Mod
Star Wars Battlefront II Full HD Interface is an upgrade for the old Star Wars Battlefront II menu.
While the gameplay itself already supported higher resolutions the menu interface did not. As a result the galactic conquest looks pixelated and stretched and furthermore there is a very limited amount of supported eras because it is not possible to display more then 5 at once.
This mod contains new HD background images, fixes for the stretched and pixelated content on widescreen Displays and additional support for more eras and game mods.
FAQ:
Q:
Nothing except the background images changed.
A:
You need to run the game from the new created shortcut on the Desktop.
Q:
The installer says that v1.3 patch is not installed, but it is. How can i select the GameData folder manually?
A:
The game adds an registry entry where the game exe is located. I use this to find the GameData folder. For some reason this entry points to a wrong location. You can either fix this in the registry so the installer finds the correct place, or rename/delete the entry so the installer will ask you to browse the GameData folder manually.
Registry entry x64: HKEY_LOCAL_MACHINE\SOFTWARE\WOW6432Node\LucasArts\Star Wars Battlefront II\1.0\ExePath
Registry entry x86: HKEY_LOCAL_MACHINE\SOFTWARE\LucasArts\Star Wars Battlefront II\1.0\ExePath
Q:
I have a different resolution then 1920x1080, does the mod work for me, too?
A:
Yes, edit the shortcut and change the resolution values.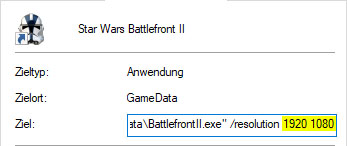 Q:
I don't like the new background images, i want to use my own theme. How can i do that?
A:
The mod loads it's graphics from the fullhd_theme.lvl. Furthermore it contains a script called fullHD_theme that is executed after loading the lvl file. You can use this script and lvl file to create your own theme.
Uninstall:
run the uninstaller located in ..\GameData\data\_lvl_pc\FHDI.
Changelogs:
v1.1
- fixed multiplayer screen
- mp session name now supports longer names
- increased font size
- included theme template
- improved installer that now removes all files
v1.0
- higher resolution support for menu
- more game eras and mods per map supported
- new game icon

Last edited by
Anakin
on Mon Mar 19, 2018 12:06 pm, edited 2 times in total.
---
Awesome! Will you change multiplayer screens? Or it is impossible?
---
Posts: 4757
Joined: Sat Sep 19, 2009 11:37 am
Location: Mos Espa (germany)
Projects :: Republic Commando Side Mod
v1.1 released. Please uninstall the old version first, before you install the new one. Remember that the old installer
does not
remove the gc script from the gamedata\data\_lvl_pv\ folder. You need to remove it on your own. After you updated to the new v1.1 version the uninstaller will remove the file for you, so there is no more need to take care of the gc script from this mod.
Changelog and download on the first post.
---
Return to SWBF2 Released Maps & Mods
Who is online
Users browsing this forum: No registered users and 2 guests