Moderator: Moderators
Posts: 740
Joined: Fri Aug 08, 2008 11:27 pm
Location: C:\Program Files\ForceMaster\Bin\ForceMaster.exe
Projects :: Tron The Grid
Games I'm Playing :: The best..SWBFII
xbox live or psn: No gamertag set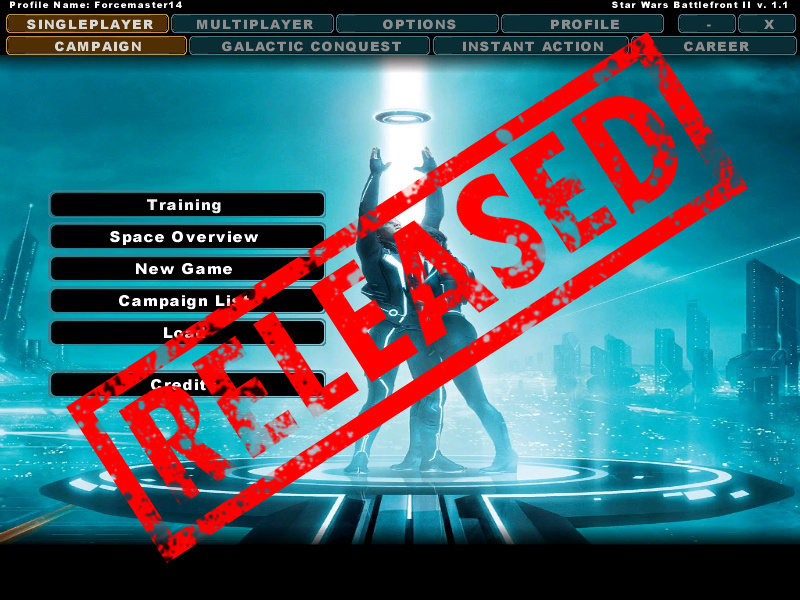 I am pleased to present the new version of my mod, TRON: THE GRID. It has been the fruit of a work of years, of investigation, trial and error but in the end I feel that it is decent enough to present it to the community. I know that there are people waiting for this mod for years and that perhaps they lost hope or faith in my work, but I can assure you that I never forgot what I had started. The long pauses between the advances are because, like everyone else, I have to work to live and not all the time can be to play. Anyway, here we are after a long time.
One of the things that I think is the best of this mod is that I try to create new game modes, weapons, characters and everything necessary to give it the best possible visual appearance and an entertaining experience based on the successful TRON franchise.
It is not a perfect mod, it still has many errors and some are due to the visual load that the engine must handle with such transparency, reflection and lighting maps for the aesthetics of the subject. It probably crashes at some point, it is very possible. I have played each map from start to finish without any problem, but sometimes it crashes in the middle of one. So no problem with that. I know the weaknesses.
I want to thank the MODDB and GAMETOAST community for continuing my work and for supporting me with their faithful comments.
Maybe in a while I will review it again and publish a new improved version. I still have ideas for this mod.
The maps of the TRON LEGACY era are only SIGLEPLAYER
Those of group play are those of the TRON MULTIPLAYER era
If you play multiplayer with the wrong era, the game will crash, because it uses scripts that are not compatible with online gaming.
Notes about game modes.
Campaign: Inspired by TRON UPRISING, try to free civilians and defend the city from the occupation of CLU. I highlight the work I did with the recognizer patrols, if you stay in the range of your search I don't think it will survive. Hard and complex programming to achieve it but the result left me quite satisfied.
Conquest: It is still the same method, get close enough to a command post to capture it. What changes here is that buildings near the controlled command post are affected by the color of the equipment that controls it (BLUE for PROGRAMS and ORANGE for SENTRIES) only in the individual mode. In multiplayer mode the buildings remain the same.
Death Match: Individual player tournament that recreates DISC WARS from the movie.
TDM: Traditional TDM mode, only the weapons used by soldiers change.
RUN / r: Perhaps this is the strangest game mode created for this old game, but I am very proud that it is functional starting from a shooting game to create something totally different.
I have never played original RUN / r, I have only seen videos, but I wanted to get as close as possible to the emotions that caused me to see the constant change of the path while the character was running, so I wanted to start a new game every time you use What happens will be different, the order of the segments of the track, the appearance of the prizes and the enemies, everything is random but linked together. At the same time I had influences from SUBWAY SURFERS, a game that inspired me to include HOVERBOARD as a game element (not easy to do, I assure you). I hope you enjoy falling through each hole and trying again every time and seek to enter the secret area where you will find much more fun. There is an easter egg.
Objective and Elimination: If you saw the 2010 movie, remember the scene of the battle over the ocean of the simulation, the good guys try to flee to the portal and the bad guys knock them down, that's what it is, play as a passenger of the plane that defends the ship with the turret (as SAM did) or play as a black guard to try to tear it down before they escape, (like RINZLER). In both cases I hope you enjoy it. The tapes of the planes are also an advance in terms of programming for this game but very complex to generate without the game crashing.
Vehicle CTF: When you think of TRON automatically think of MOTORCYCLES, then you will have the opportunity to get on one and try to cross in front of your opponent before he faces you and crashes in a spectacular way. As it is a game, you must have someone who wins or loses, so there is a turn-based CTF system based on regions, enter the region of your team's flag and then go to the point that the game will point to score points (they are 13 and are random, not always the same).
Race: For years I heard about projects of racing game modes but never imagine how difficult it is to turn a shooting game into one where you step on the accelerator. Although the AI ​​of the game is not the best for this, it can still be considered useful in these cases. They may not have your heels on the run but at least they will start with you. This mode was initially intended for multiplayer, but you can have fun touring the places. I advise you to try the first person mode for vehicles, it is another experience.
Survival: Maybe you played TRON 2.0, well, there I saw many characters and weapons that I found interesting to include, also TRON: EVOLUTION was a source of inspiration. Hence the idea of ​​including the INFECTED, they are a local faction but enemies of all and the character they kill makes him one of them ... you can try by eliminating by one of them in the conquest mode and see how the virus infests its character and now it can infest others. Well, the meaning of this game mode is to infest all the enemies until they are all from your team. but it will start alone ... you must make the indicator of the opposing team reach 0.
Wave: Do you like zombies? maybe you sit in a movie of them when you see infested come from everywhere to reach the portal ... they do not come for you ... only that you are in the middle, they want to leave the network ... the portal It is your chance. Here I introduced a turn that seems interesting to me, there are 4 memory modules in the scene, each one controls a type of soldier of his team, if the enemies destroy him they infest him ... then you will not be able to select that unit until you clean the bank of memory with the tool. All characters have tools. So be careful not to destroy it, a unit that you lose is one that plays for them.
CTF 1 & 2 flags: The traditional system but with the weapons and the environment of the mod.
Hunt: this is a hunting competition where if you kill the opponent you lose points, you must kill the prey (intected units)
LINK HERE:
https://mega.nz/#!kF0jQIyD!5bF3qdK_GKx6MLskcbOFTeUZzdIp77Rmn5-fqfqAKnk
Key (If you need it): 5bF3qdK_GKx6MLskcbOFTeUZzdIp77Rmn5-fqfqAKnk
Hope you enjoy it.
ForceMaster.
---
Posts: 860
Joined: Mon Nov 04, 2013 10:37 am
Location: Area 51
Projects :: Battlefront Halation
Games I'm Playing :: SWBF 1-2-2015
xbox live or psn: none
Well done! Cant wait to give it a rundown. Congrats on this release!

---
Posts: 461
Joined: Sat Feb 01, 2014 10:05 am
Location: New Jersey
Projects :: N.A.
Games I'm Playing :: SWBF1 SWBF2 LOTR
xbox live or psn: MikeTheeBeast55
I was fortunate to keep the BETA of this map for all these years but now I can finally replace it with this FULL VERSON! So glad this finally got released!
---
Posts: 1108
Joined: Fri Sep 13, 2013 7:09 pm
Location: Denver, CO
Projects :: The Sith Wars II
This is some of the greatest and most dedicated work I have seen on this site in recent years, and maybe of all time. The level of detail, programming, and complexity of the mode awe me. Incredible job, ForceMaster! Something to really be proud of.

---
Posts: 740
Joined: Fri Aug 08, 2008 11:27 pm
Location: C:\Program Files\ForceMaster\Bin\ForceMaster.exe
Projects :: Tron The Grid
Games I'm Playing :: The best..SWBFII
xbox live or psn: No gamertag set
Many thanks dudes!

---
Return to SWBF2 Released Maps & Mods
Who is online
Users browsing this forum: No registered users and 4 guests